Saskia Huitema, a self-taught traditional artist, works from her home in Utrecht, The Netherlands. Her main focus is on portraits, but critters, florals, and landscapes also find their way into her work. She is currently working on a narrative series of paintings titled 'Realms'. Saskia aims to portray beauty and emotions, weave tales, and connect with nature in her art. Her work has been exhibited at galleries, Art Fairs, museums, and other venues since 2015. Saskia's paintings have been adopted in the homes of collectors both nationally and
internationally.


"Three of Swords" by Saskia Huitema.
We are looking at an anatomical heart in a glass jar, surrounded by three scalpels. The scene is set in the Victorian Era, and an ominous rainy sky is in view in the background.
This image represents pain or deep emotional sorrow.
This Tarot card 'Three of Swords' was created for @78Tarot Halloween-themed Tarot Deck with companion Oracle Deck which will be published in 2023.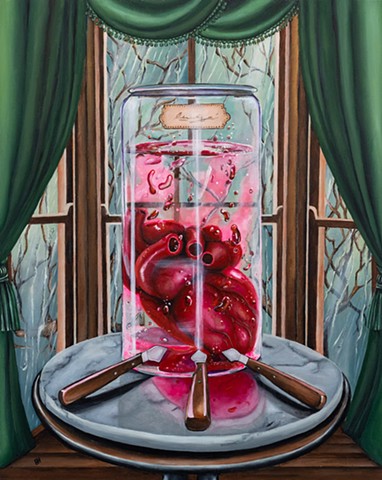 "Three of Swords" by Saskia Huitema
Acrylic and pencil on canvas panel
Size without frame: 40x50x1 cm Size with black wooden frame: 47x57x2 cm
Saskia Huitema, a self-taught traditional artist, works from her home in Utrecht, The Netherlands, and is exhibiting for the first time at A.B.F.M. Magazine® Online Halloween Group Exhibition. Saskia is also featured in our artist directory on the website.




Support and contact Saskia Huitema through the links below.
Website: www.linktr.ee/starblueshell
Facebook: www.facebook.com/starblueshellartist
IG: www.instagram.com/starblueshell
@starblueshell



Published JST, Sun October 01, 2023