Rooted in the heart of Texas, I laid the foundation for my artistic journey at the University of North Texas, earning a Bachelor of Fine Arts in Drawing. After graduation, I bypassed the traditional M.F.A. route, opting for a transformative journey in Alexandria, Egypt. Infused with a newfound love for teaching art, I returned to academia, securing a Master of Arts in Art Education.
For almost a decade, I passionately shaped young minds at Sam Houston High School in Arlington, simultaneously contributing to community organizations like ArlingtonConnect and the Arlington Public Library. Since leaving Sam Houston, my artistic horizons have expanded into digital art and surface design.


As a lifelong enthusiast of people, plants, and puzzles, my art is a reflection of lived experiences and conversations I've had. In this particular piece I was reflecting on the life cycle and how at the end of it, we all become food for worms.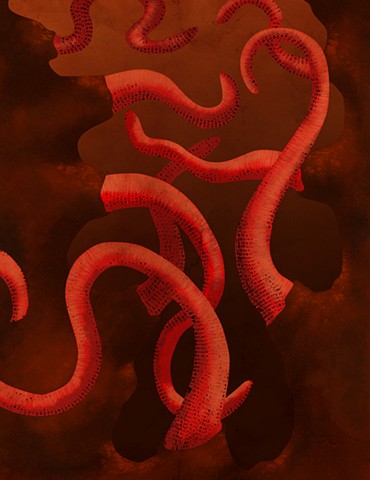 "Crimson Decay" by L'Oreal Frye
Digital, 2 prints available, printed on archival mowhawk cardstock.
"8x10"
L'Oreal Frye is a visual artist from Texas and is exhibiting for the first time at A.B.F.M. Magazine®'s Online Halloween Group Exhibition and is featured in our artist directory.


Support and contact L'Oreal Frye through the links below.
Website: www.artmules.com
IG: www.instagram.com/artmules
@artmules



Published JST, Sun October 01, 2023